Emails recently obtained from the office of Katie Hobbs, Secretary of State for Arizona, suggest that she may have abused her power and requested Twitter to censor tweets critical of her 2020 Election misconduct as soon as November 2020.
This alleged collusion between Hobbs and Twitter would be a violation of the Constitution and contradicts previously reported information by The Gateway Pundit.
Hobbs faced criticism over a 2017 tweet where she called Trump supporters "neo nazis," so she asked far-left Twitter to shut them up as she prepared to run for Governor.
Fox reports,
The post had critics online call into question Hobbs' impartiality when administering the election, and, according to emails obtained by Fox News Digital from conservative political organization Arizona Capitol Oversight, Hobbs tried to get Twitter, now known as X, to censor the criticism against her.

On Nov. 13, 2020, Hobbs emailed Twitter — using her official Arizona secretary of state email — asking the support team to take action against her online trolls.

Twitter asked for more information and for Hobbs to provide examples for her request, which Hobbs was unable to provide.

Hobbs responded by claiming she was being harassed by "alt-right" online critics after calling political opponents Nazis.
The screenshot below shows part of this discussion on November 13, 2020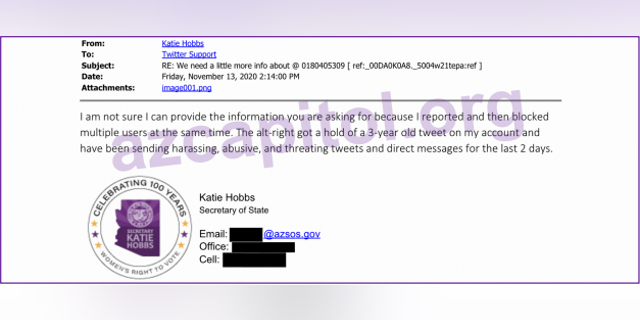 Katie Hobbs later continued her unprofessional and vile tweets during her campaign for Governor while her critics were censored.